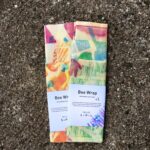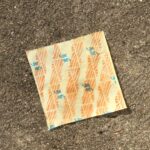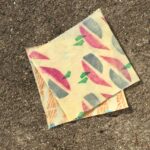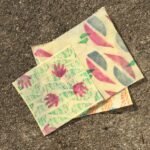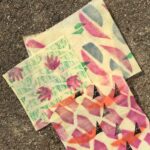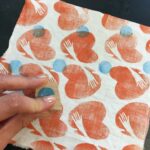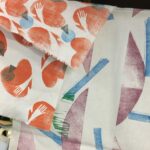 Bee Wraps – S • M • L
20,00€
Le bee wrap empêche l'oxydation des aliments et laisse passer l'air tout en préservant les aliments de l'humidité. Le bee wrap est une alternative au film alimentaire.
Les bee wraps que je conçois sont composés de tissus 100% coton récupérés (de vieux draps de grands-mères, de chutes de tissus,…), ils sont ensuite lavés, découpés et imprimés à la main à l'aide de tampons.
Les motifs créés sont des motifs originaux. Les tissus sont ensuite repassés avec de la cire d'abeille pour devenir des Bee Wraps.
Ils sont vendus par lot de 3 et 2 sets de tailles sont disponibles :
(Les tailles sont approximatives car aucun morceau de tissu n'est jeté !)
20×25 cm
XS•S•M : autour de 17×17 cm • 20×20 cm • 25×25 cm
S•M•L : autour de 20×20 cm • 25×25 cm • 35×35 cm
——
Indications : Ne pas emballer d'aliment très chaud, éviter le contact direct avec la viande et le poisson. Le bee wrap peut être placé au frigo et au congélateur. Laver à l'eau froide et au savon. Ne pas laver au lave-vaisselle ou à l'eau chaude.
Le bee wrap peut être utilisé environs 500 fois.
N'hésitez pas à raviver votre bee wrap après quelques mois d'utilisation : placez-le sur une feuille de papier sulfurisé et mettez le tout 5 minutes au four à 80° avec quelques paillettes de cire naturelle en copeaux. Laisser complètement refroidir avant le retrait du four.
——————————-
The bee wrap prevents food from oxidisation and allows air to pass while keeping food free from moisture. The bee wrap is an alternative to cling film.
The bee wraps that I design are composed of 100% upcycled cotton fabrics (coton sheets from our grandmothers, fabric scraps, …), they are then washed, cut and blockprinted.
The patterns created are original patterns. The fabrics are then ironed with beeswax to become Bee Wraps.
They are sold in sets of 3 and 2 type of sizes are available:
(Sizes are approximate as no piece of fabric is thrown away!)
20×25 cm
XS•S•M : autours de 17×17 cm • 20×20 cm • 25×25 cm
S•M•L : autours de 20×20 cm • 25×25 cm • 35×35 cm
——
Directions: Do not pack very hot food, avoid direct contact with meat and fish. The bee wrap can be placed in the fridge and freezer. Wash with cold water and soap. Do not wash in the dishwasher or with hot water.
The bee wrap can be used around 500 times.
Do not hesitate to revive your bee wrap after a few months of use: place it on a sheet of baking paper and put everything in the oven for 5 minutes at 80 ° with a few flakes of natural wax shavings. Let cool completely before removing from oven.
5 in stock (can be backordered)